Sunset on the Columbia River

Author, Speaker, Artist & Quilter
Patricia H. Rushford
Welcome . . .

Hi there,

I'm glad you stopped by. I live in the beautiful Pacific Northwest and love the beach. I also love writing mysteries. Most of my novels are set here in the Portland, Oregon area and at the Washington/Oregon coast. I love writing about life at the beach and the exceptional cuisine offered here, not to mention the magnificent forests and mountains and waterfalls. You'll find most of my books listed under the Books heading at the top of the page.
My writing career started while I was working as a nurse. I began writing to ease a depression I'd fallen into and eventually ended up going to a writing conference. There I learned the craft of writing and found my new career. My early books were of the self-help variety and you can take a look at these non-fiction books by clicking on the tab above. My love for fiction--both as a reader and writer led to my first novel, Kristen's Choice, and then on to a mystery series for kids, the highly acclaimed and award winning, Jennie McGrady Mysteries. Once I began writing mysteries I was hooked and began to write mysteries for adults as well as for kids. I think I'm up to sixty-six so far and still going. To read more about my writing journey click here.

Besides being a writer, I'm a wife mother, grandmother, great grandmother, an ex-nurse, mentor and a counselor with a master's degree. I'm also a philosopher, gourmet cook, quilter, knitter and an artist. Oh, and a teacher. I taught creative writing on a 110 day cruise around the world!

I love the arts. On my website I've included my Art Gallery as well as my Quilt Shop. You'll find items for sale. I figure there's nothing better then a mystery and a cozy quilt to wrap yourself up in.

To sign up for my newsletter. See the form below.

I hope you'll take the time to browse through my web pages and check out the books I've written. Thanks for visiting,

Mysteriously yours,

Pat

ricia

Here are some of my most recent projects.
An amazing deal!
For a limited time pick up the entire set of
The Helen Bradley Mysteries on Amazon for only $0.99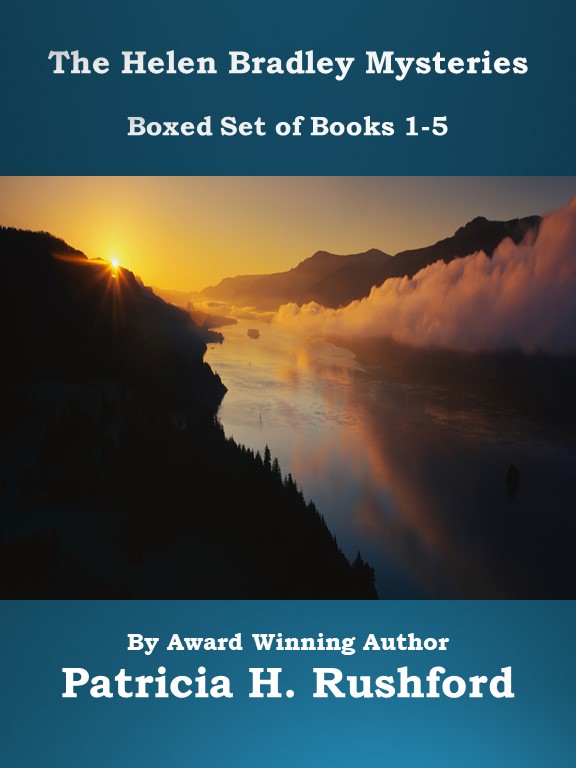 Fans can now enjoy all of my Helen Bradley Mysteries on Kindle and in Paperback on Amazon
| | | | | |
| --- | --- | --- | --- | --- |
| | | | | |
Exciting News!!!
are now available on Kindle as e-books and in paperback.
To purchase books click on the covers or titles.
| | | | |
| --- | --- | --- | --- |
| | | | |
A young adult novel. Updated and sporting a new cover it's ready for a new generation.

When an injury forces her to give up the serious gymnastic training that has filled her life, sixteen-year-old, Kristen Jameson, feels her life coming apart. The choices she makes lead to trouble and Kristen begins to wonder if life is worth living.
Subscribe to my newsletter: Mysterious Musings
[Home][Meet Patricia][Books] [Non-Fiction][Contact][Newsletter]
The ChiLibris Ring--Some of Today's Best Christian Authors

[ Join Now | Ring Hub | Random | << Prev | Next >> ]

Revised March, 2019 by Patricia H. Rushford

.